Modern kitchen chandeliers amaze with a variety of colors and styles. Lighting is an important part of every design. The right lighting is able to make your kitchen cozy, comfortable and nice. Here you can get to know what you need to take into consideration when choosing kitchen lighting and how to choose the perfect one in accordance with the kitchen design.
Types of chandelier designs
Suspended chandeliers: one or more plafonds, fixed on a cord, chain or string. A lamp with a shade is a traditional option for a kitchen. It is usually hung over the table and, as a rule,this is enough for a small kitchen. The plafonds of the suspended chandelier can be made of glass, plastic, fabric and even paper. The variety of shapes and designs makes this type of chandelier almost universal.

Ceiling chandeliers: ideal for a small kitchen with the low ceiling. The plafond of such a chandelier can be translucent (matte) or completely transparent. There are both normal white and colorful models. The shape is usually strict, geometric (circle, square), but there are also unusualdesign variations: models that resemble a crown, a tree, a flower orfigures that are even more complex.
Chandelier Styles
Comfortable kitchen lighting – how to create?
Chandelier in the kitchen is not just a source of light, but also an element of decor that creates a cozy atmosphere. The kitchen should be light and comfortable, that is, both the working and dining areas should be well-lit.
Using chandeliers with adjustable lighting modes are an excellent opportunity to save energy and use lighting as much as possible;
Lighting in the room should be comfortable for eyes: too bright or dim light is tiring for eyes. On average, the norm of illumination in the kitchen should be as follows: 12-40 Watt per square meter (incandescent bulb), 30-35 watt per square meter (halogen bulbs), 8 watt per square meter (fluorescent bulbs);
If the kitchen is large, then it is worth giving preference to a multi-pendant suspended chandelier, for small kitchens, a ceiling or one-pendant chandelier is suitable;
You can zone the room using lighting. You can hang the chandelier over the table, and illuminate the work area with spotlights. If the kitchen and dining room are combined, it is reasonable to install two chandeliers (or a chandelier above the dining area and spotlights above the kitchen): the chandelier above the dining area should be larger and more visible than in the kitchen area;
In the modern kitchen design you can do without chandelier: the area above the bar can be lit with a stylish wall lamp, the working area can be illuminated with hidden ceiling lamps.
Which bulb to choose?
There are several types of bulbs, each has its own advantages and disadvantages.
Halogen bulbs: these bulbs serve for a very long time, but they heat up quickly, they are expensive, and their disposal must be carried out in accordance with certain rules;
LED bulbs: expensive, but they are durable, economical, diverse (in terms of color) and very practical (they do not heat up, they serve for a long time and can be used both for lightings and as independent light sources).
Incandescent bulbss: their advantages include low price, pleasant warm light, availability, disadvantages – a relatively short lifespan;
Fluorescent bulbs: the advantages of such bulbs are bright light, which can be tiring for eyes; in addition, sometimes fluorescent bulbs noticeably "blink" because of voltage drop;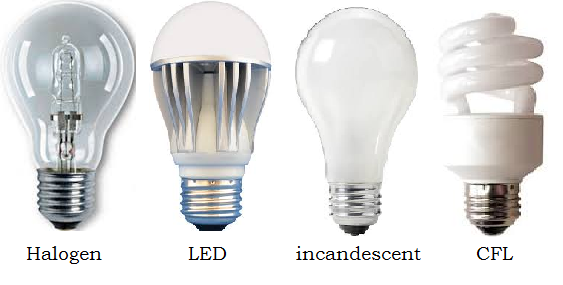 The choice of the bulb depends on the material from which the chandelier is made, the style of the kitchen design, and your preferences (not everyone, for example, like LED lighting) and financial possibilities.
Materials of kitchen chandeliers
When choosing a chandelier, keep in mind that the lower it is hanging, the better should be materials, parts and accessories from which it is made. A low-hanging chandelier should be perfect both from the outside and from the inside. If it hangs high, then you should notbuy a model made of expensive materials. For example, a crystal candelabrum can be replaced with a candelabra made of glass or even plastic;
Chandelier in the kitchen should not splotch easily – glass or plastic models are preferable to fabric models;
Wooden chandelier should be varnished;
Choose those chandeliers that can be exposed to washing with a soapy water. Paper lamps are the most impractical: they can not be cleaned without damaging. In addition, such chandeliers, as a rule, are quite large (so that the paper is located at a sufficiently large distance from the lamp), which is suitable not for every kitchen. Another disadvantage: paper lamps give off the diffuse light – this is not the best option for kitchens, although they look quite good;
Forged models must be cleaned from dust very often: in their bends, curls and joints, dust accumulates constantly;
Ceiling chandeliers of simple geometric shape made of glass or plastic are perfectly suitable for the kitchen: they are easy to care for.
Chandelier and size of a kitchen
The chandelier should harmoniously fit into the kitchen space not only in style, but also in size.
For a small kitchen or kitchen with low ceilings, the ceiling chandeliers are suitable.
Long suspended chandeliers with small shades are perfect for narrow kitchens, they will give the room a stylish look, while the light bulbs will allow evenly illuminate the entire space;

Large kitchens and classic chandeliers, massive suspensions, crystal candelabra are created for each other. Ceiling chandeliers can also look harmonious in large kitchens. An interesting option for a spacious kitchen will be a multi-level model: a luxurious chandelier or a classical chandelier made of crystal and metal, as well as glass or wicker spheres or an elegant floral model;
Suspended and ceiling chandeliers, glass and forged, laconic and chic – different chandeliers can create a special atmosphere in the kitchen; make the room higher and brighter or, on the contrary, to create the atmosphere of mystery and coziness.