Open shelves as a design technique in kitchen interiors have become quite popular; they are used both by professionals and by ordinary owners of apartments and private houses. Open shelves can be used in addition to kitchen cabinets or replace them at all. They serve not only as storage systems, but also as decorative elements of a modern interior. Economic accessibility, practicality and simplicity made open shelves a universal design solution for kitchen interiors. It is quite easy to imagine open shelves in modern kitchen designs as well as in country style kitchens. Even such styles as minimalism or classic mayinclude the integration of this design solution.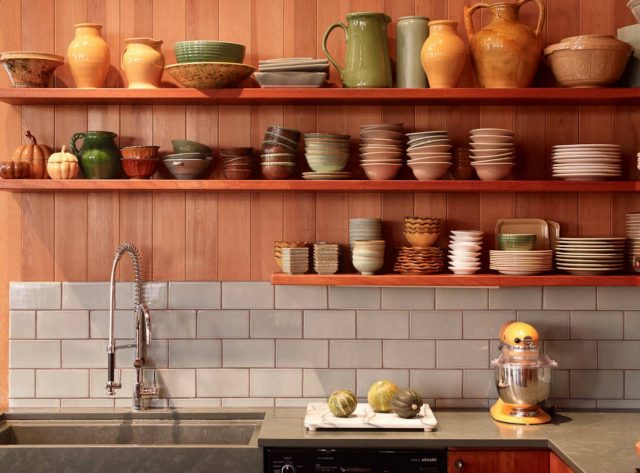 Advantages and disadvantages of using open shelves in kitchen interiors
Like any other design solution, the use of open shelves in kitchen interiors has its pros and cons. But it is obvious that understanding of disadvantages and advantages is subjective – some owners would like to use shelves as storage systems, while others would not appreciate this idea.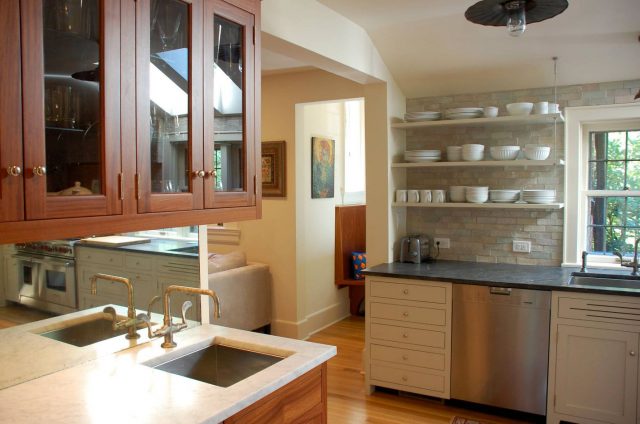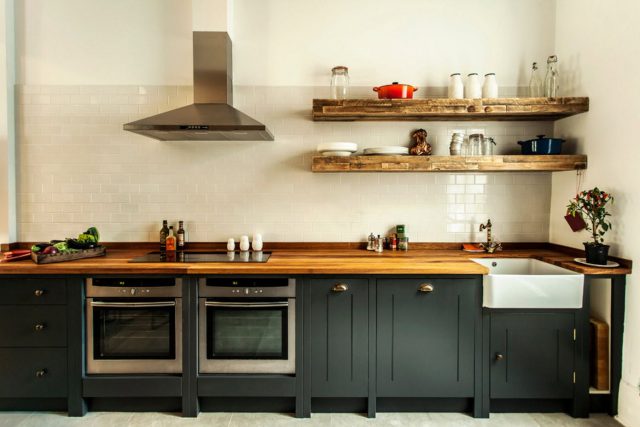 Advantages of using open shelves:
unlike kitchen cabinets that significantly reduce the visual volume of the room, open shelves create a visual increase in space (the possibility of using them in small kitchens encourages many owners of small apartments to this design solution);
in addition to the fact that shelves take up no room, you do not need to save space for swinging doors;
considering that all storage items are usually placed in front of your eyes, it is obvious that you will save enough time on searching and accessing kitchen utensils;
open shelves are perfectly combined with overhead kitchen cabinets and built-in storage systems;
beautiful dishes or accessories are in sight, as if they are in a shop window.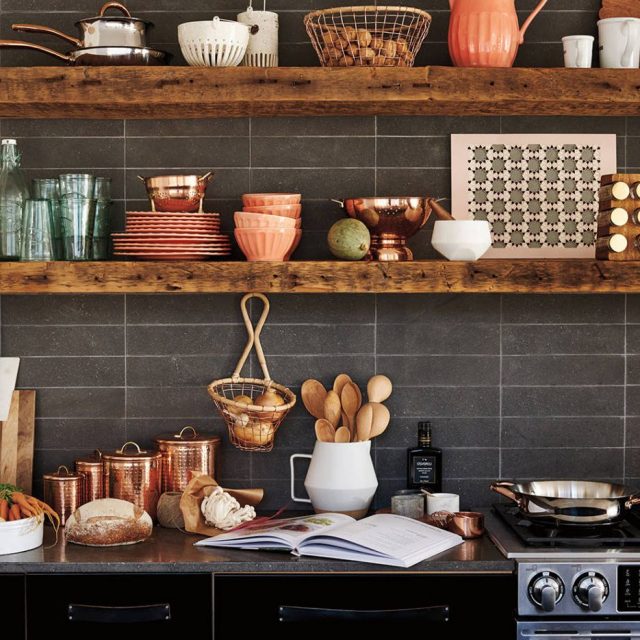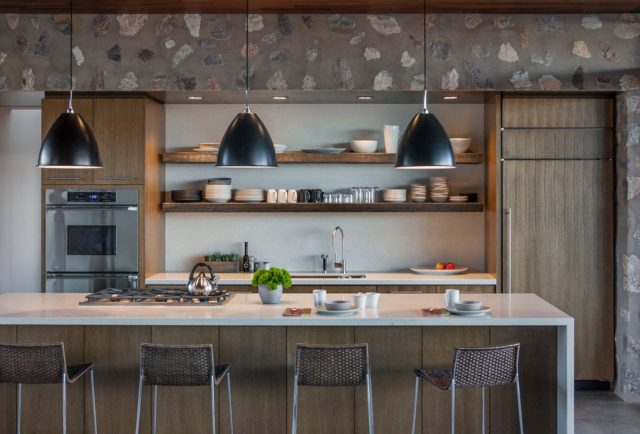 Disadvantages of open shelves as an element of kitchen interior:
The shelves and all items on them are becoming dusty very quickly, they can also becovering with droplets of fat if you have no a cooker hood (the best way out is a powerful hood installation);
It is not always possible to place on open shelves such large-scale objects as household appliances, large dishes etc.
Many housewives would prefer not to put their dishes and kitchen utensils on a display.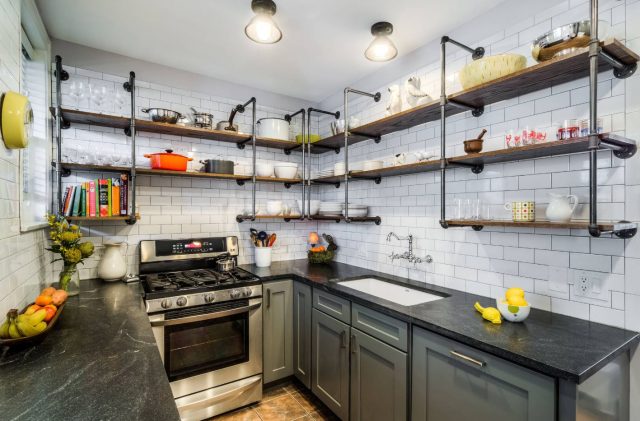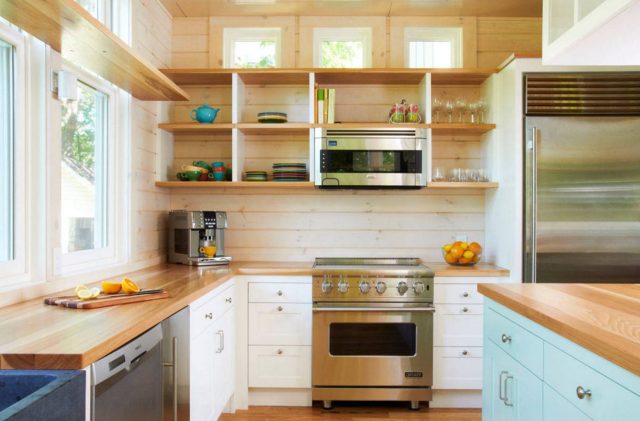 Open shelves – design, options and material
Traditional version of kitchen shelves
One of the most popular options for equipping kitchen spaces with open storage systems is the use of conventional shelves that are attached directly to the walls, without any other elements. Shelves can be matched to the color of lower kitchen cabinets or contrast with them. A combination of colors and textural materials of shelves and kitchen countertops is welcome. Regardless of the decisions taken, this version of the kitchen shelf design can harmoniously fit into almost any kitchen interior.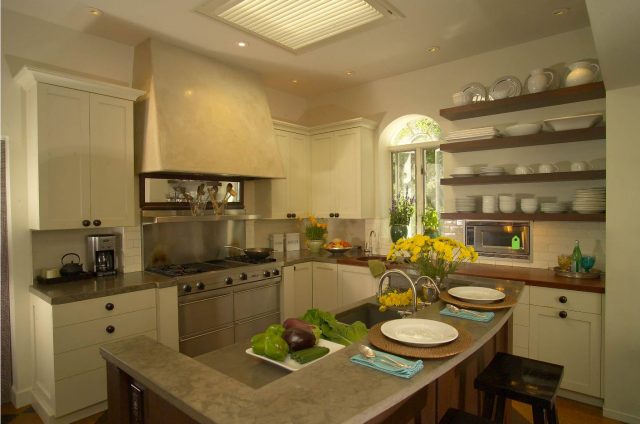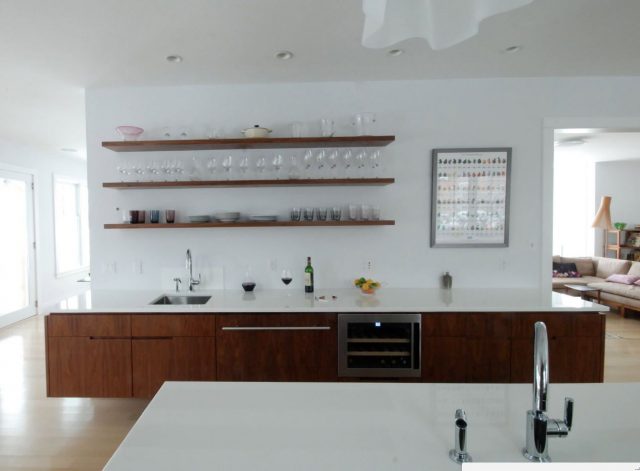 Unlike kitchen cabinets, open shelves can be placed along the window opening. If your room is sufficiently light and a slight sunlight overlapping does not affect the level of illumination, then you can install the shelves even in the window area.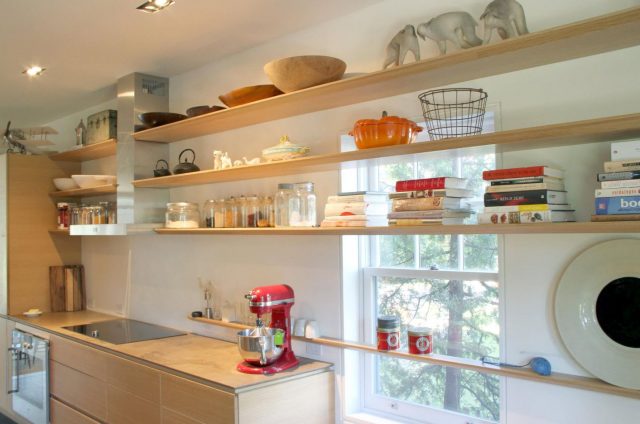 With the help of special fastening elements, you can not only fix the shelves, but also decorate them. Fastening elements can be made of the same material as the shelves or differ not only in composition but also in the décor style. For example, metal holders with forging will look original with wooden shelves, bringing not only originality, but also a special charm to the interior.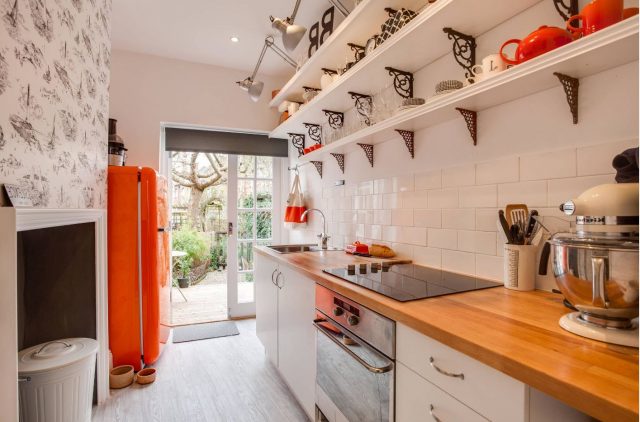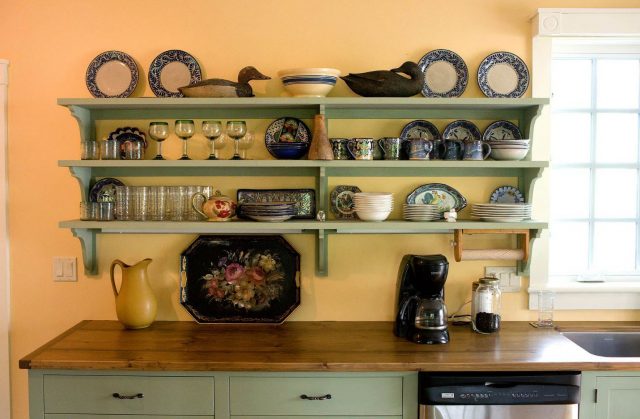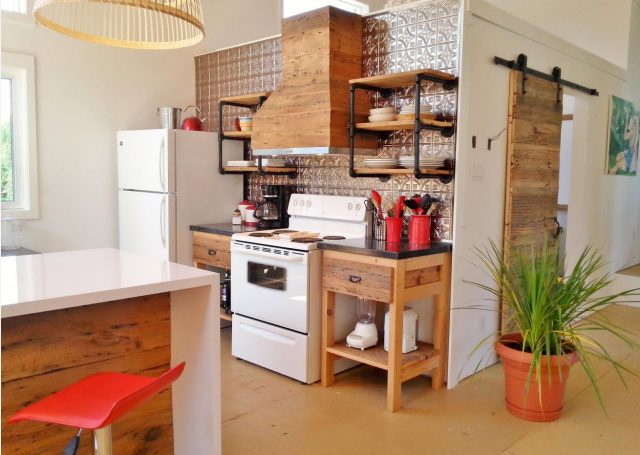 If the kitchen interior is made in light colors (we all understand that small rooms are designed mainly in light colors), then the dark wood shelves will look spectacular, attracting general attention.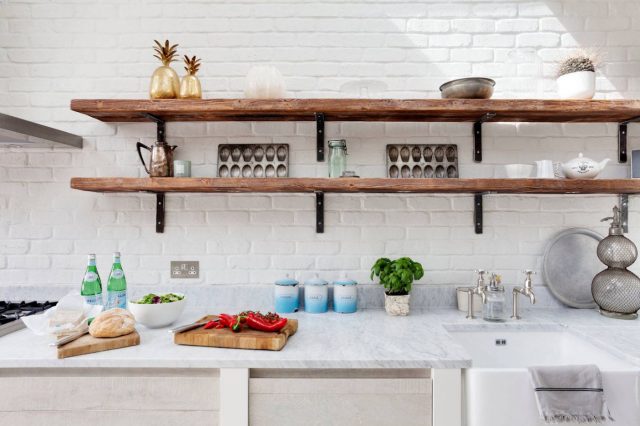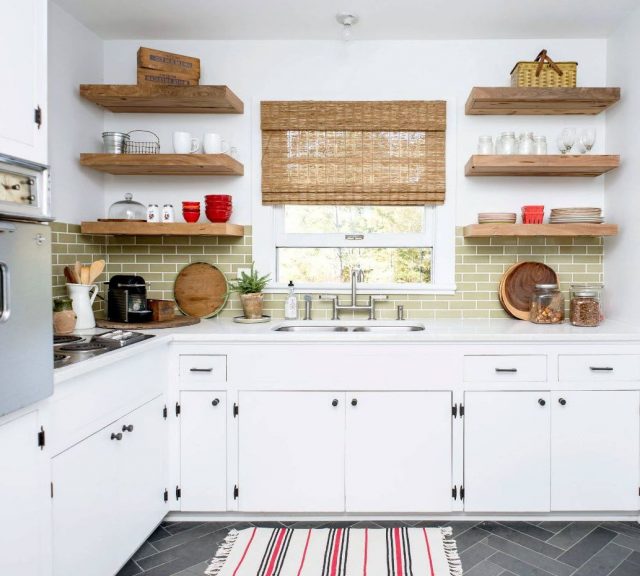 Shelves made of stainless steel are very practical and convenient. They will look great in kitchens, decorated in a modern style, high-tech, fusion and even minimalism. In combination with shine of household appliances and countertops, open shelves made of stainless steel look harmonious and relevant.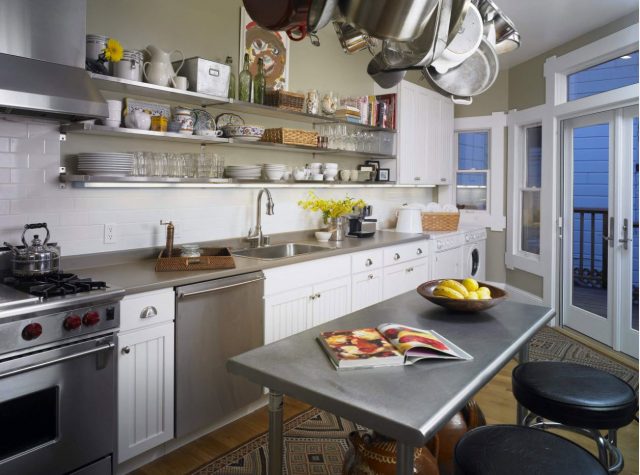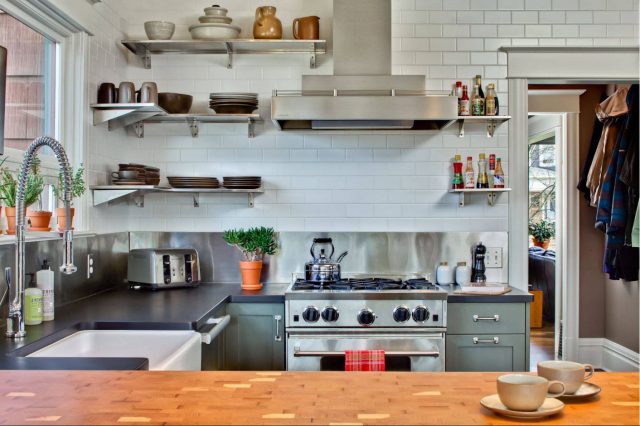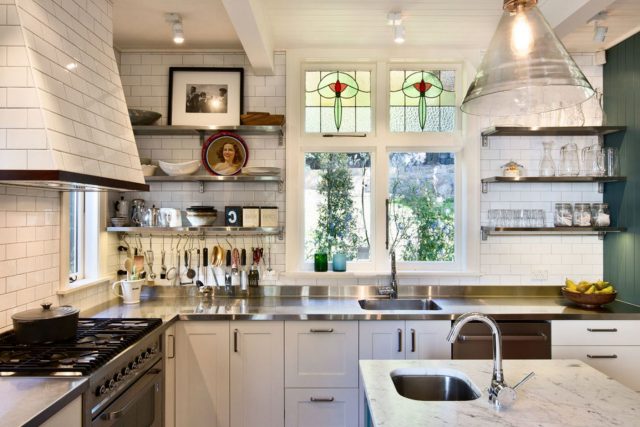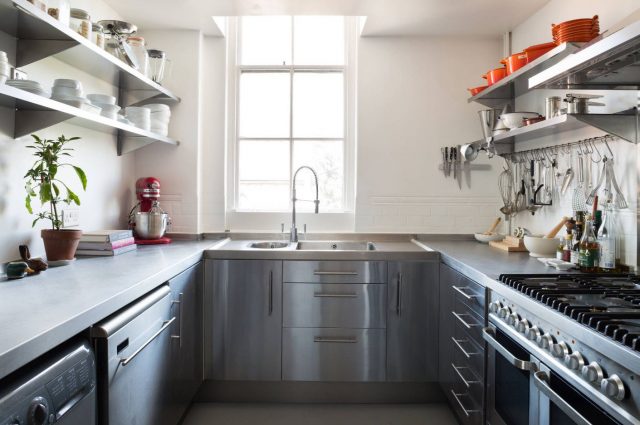 The illumination can be built into the overhead shelves as well as in the lower part of kitchen cabinets located above the work surfaces. Thus, you provide the working area of the kitchen with a sufficient level of illumination and decorate the interior.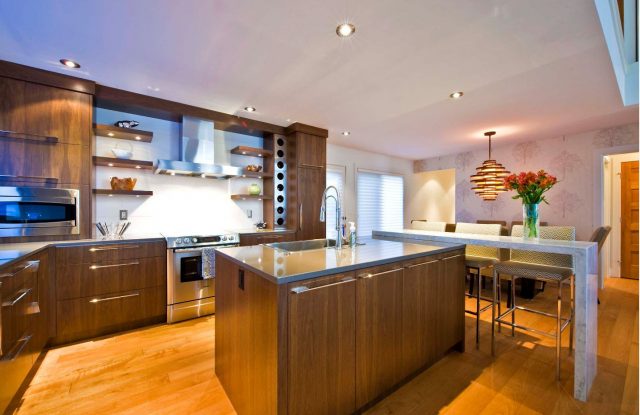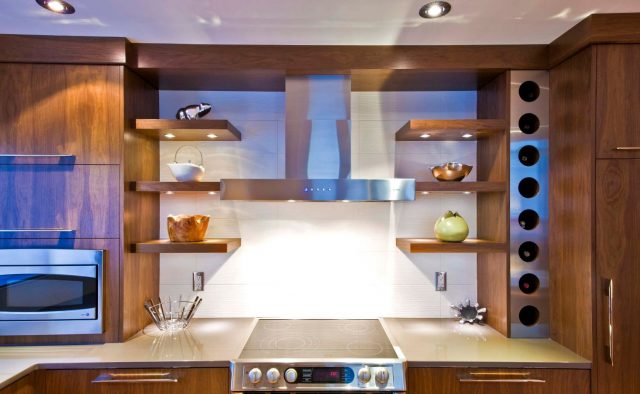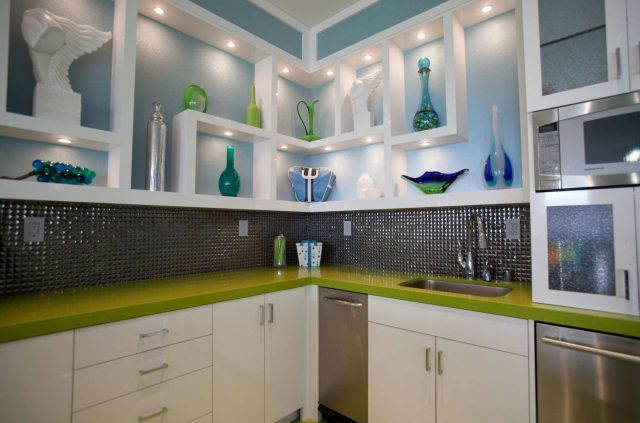 Open shelves with attachment to the ceiling
It is not always possible to attach open shelves to the walls of the kitchen. In this case, you can use special constructions that are mounted to the ceiling. In addition to the original appearance, these structures have a sufficiently high strength and can endure high loads. The disadvantage of such way of attachment is only that it is necessary to drill the surface of the ceiling (impossible in rooms with stretch ceilings).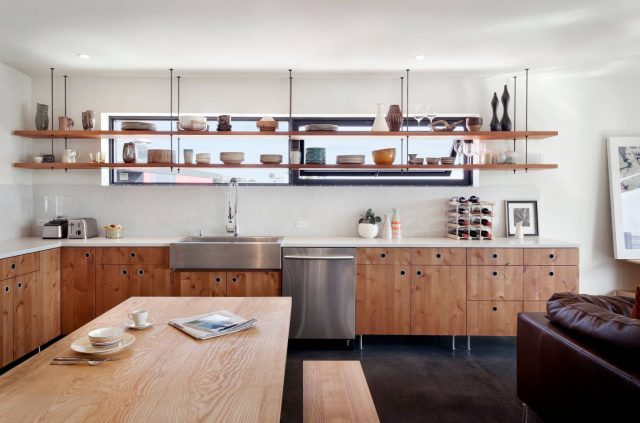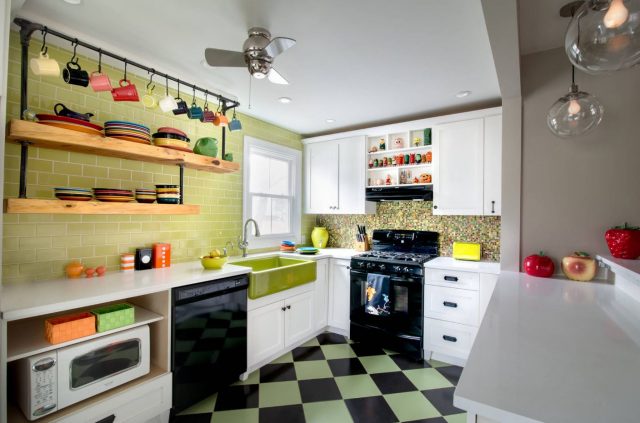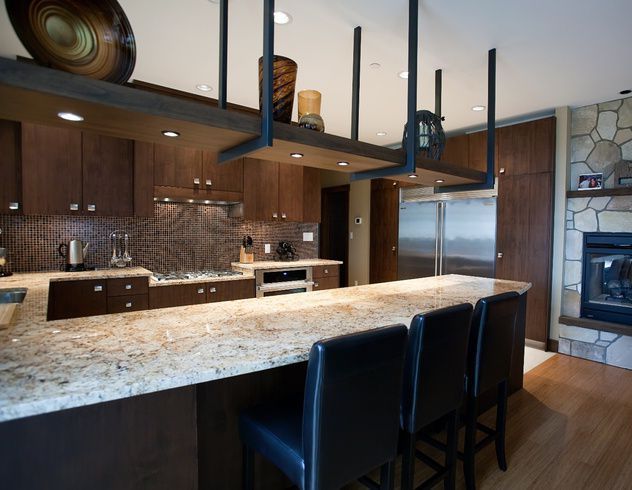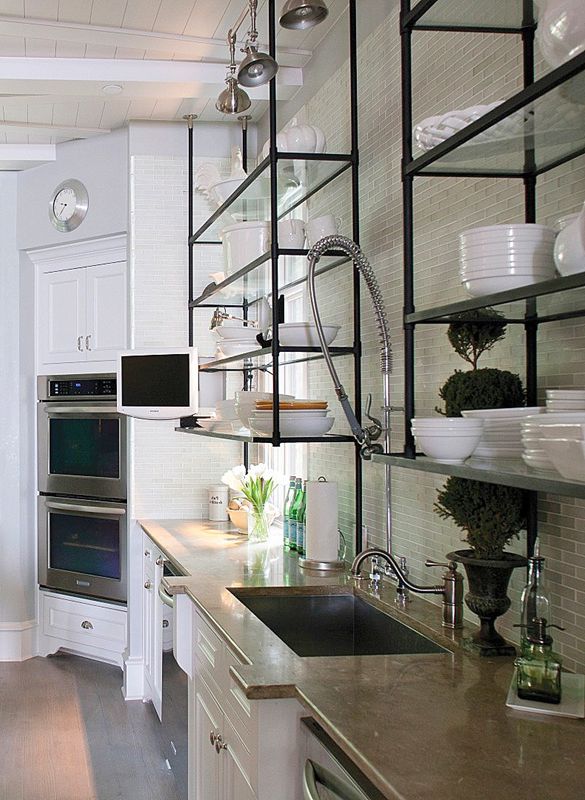 In modern design projectsyou can find a combined fixing of shelves to surfaces – not only to the ceiling, but also to the walls. It doesn't look elegant, but the reliability of installation and the ability to withstand heavy loads are in priority for many owners.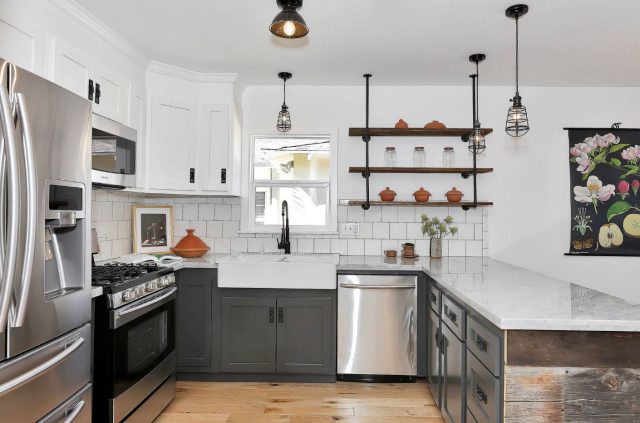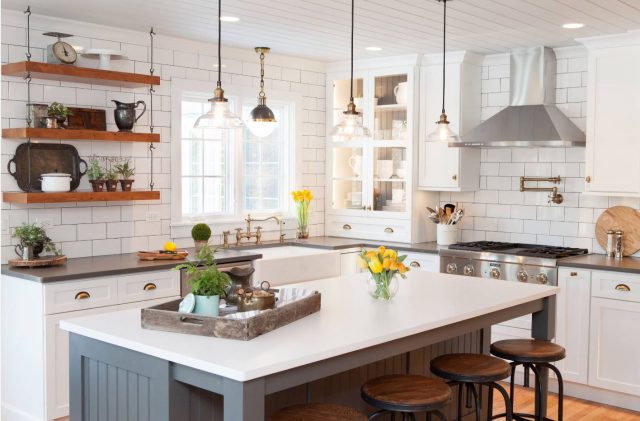 Built-in shelves
Many kitchens (especially in old apartments) are rooms of irregular shape, with niches and ledges. But any imperfection of architecture can be used for the benefit of an interior. The built-in shelves in niches are an excellent opportunity not only to use an available space to the max, but also to bring diversity and creativity to the kitchen design.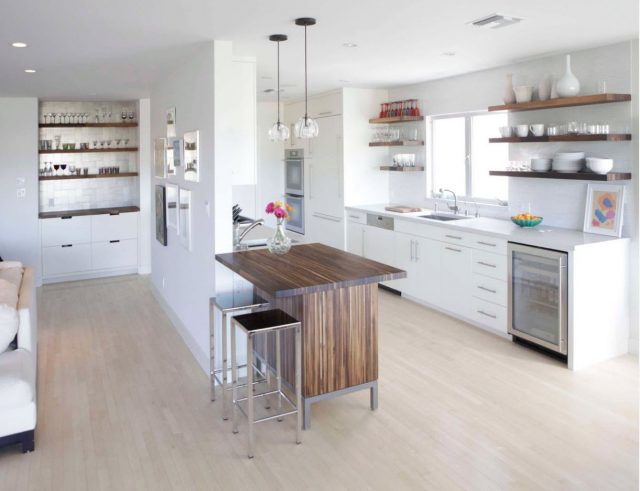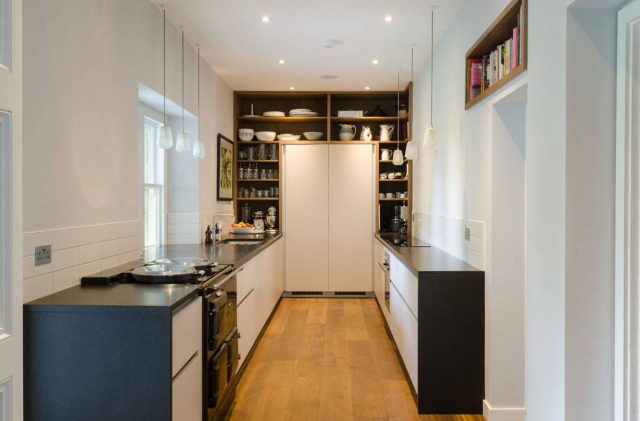 Glass shelves are not cheap, but they look luxurious. The structures made of transparent glass look weightless, bringing not only lightness, but also freshness in any interior. Glass shelves are easily combined with furniture items made of wood. In addition to its primary function as storage systems, glass shelves are used as a decorative element.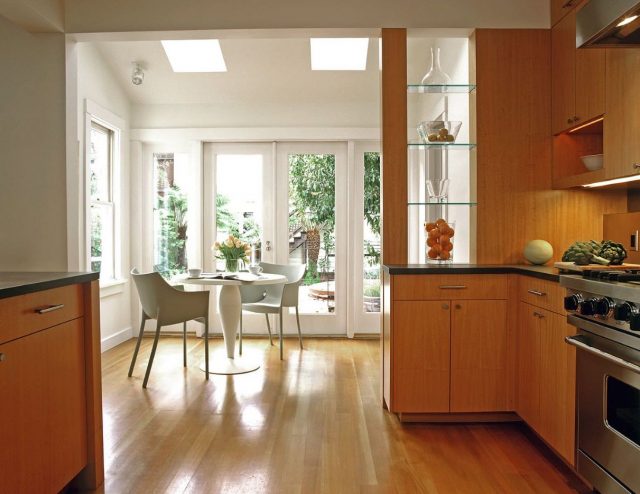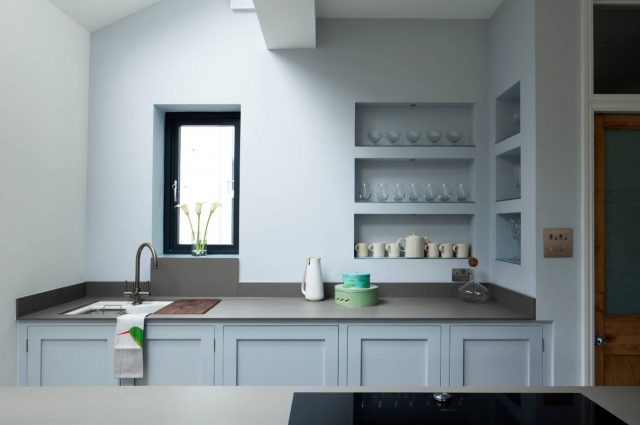 Shelves in the facade of a kitchen island
If a kitchen island is sufficiently large, open shelves can be placed on one of its sides depending on their shape. The facade with shelves can be turned both inside the working area of a kitchen and towards the dining room or living room, in case the room is combined. Such an arrangement of open shelves with dishes, culinary books and other kitchen elementsis convenient, first of all, for short people, who can not reach the top of shelves.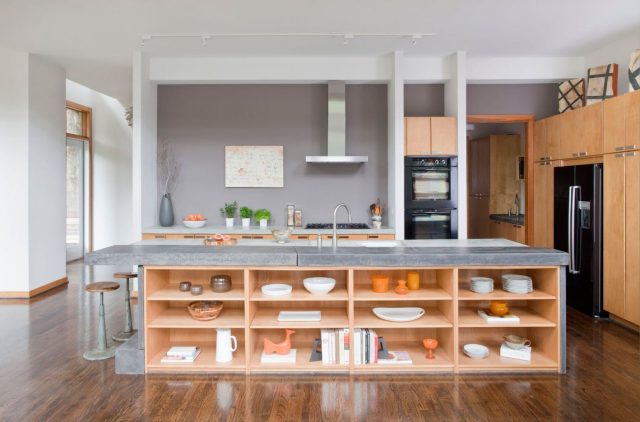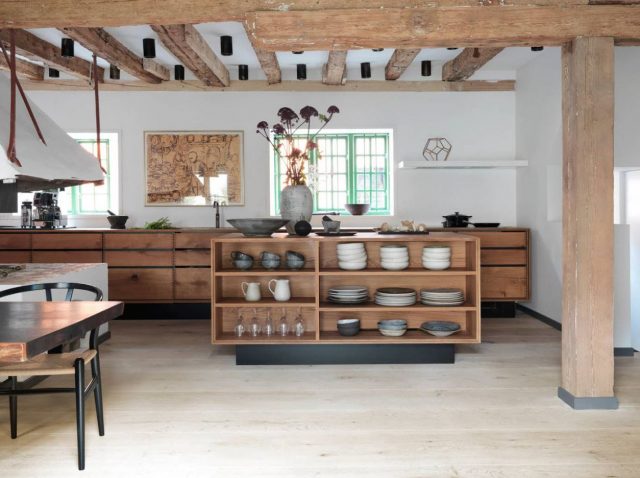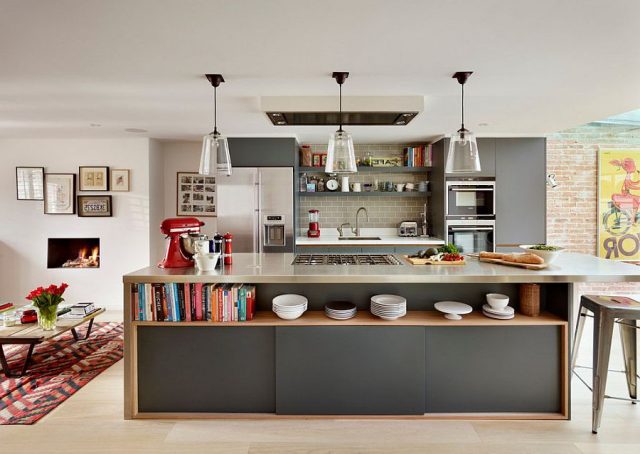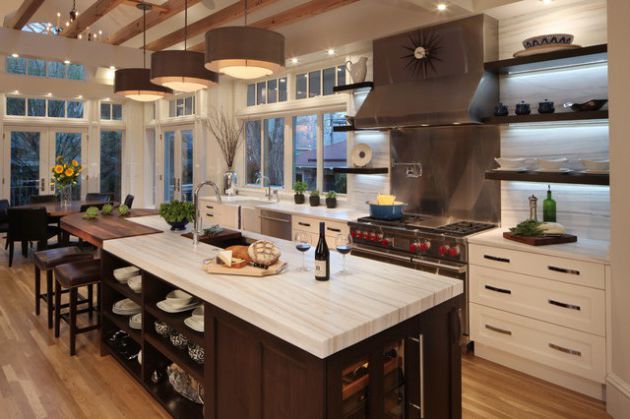 Corner shelves in the modern kitchen
It's sometimes difficult to use angular segments rationally. Therefore, the installation of corner open shelves will maximize the use of working area in the kitchen, although it will affect the cost of manufacturing structures.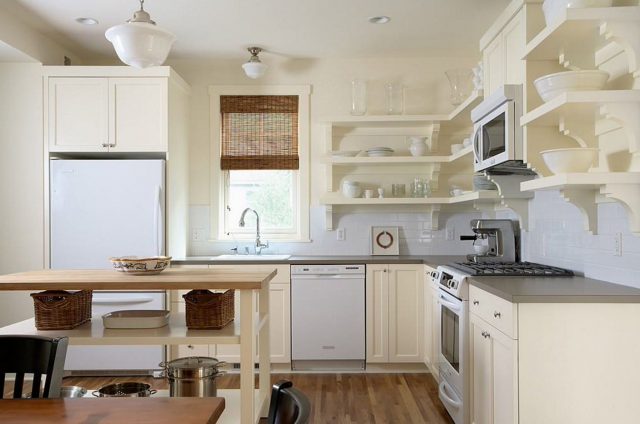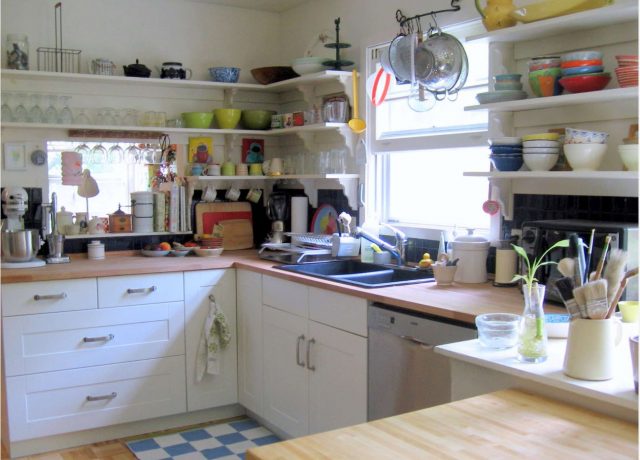 Open shelves – part of the kitchen rack
In contrast to traditional open shelves, the rack is similar to kitchen cabinets, but without facades. In terms of costs, you will have to spend more on manufacturing the rack than on mounting shelves, but much less on installing cabinets with facades, because it is doors (with quality fittings, door closers and other accessories) which are the most expensive part of the kitchen set. Depending on size of a kitchen area and décor style, kitchen racks with open shelves can be usedas a separate piece of furniture located near the wall or as an internal partition.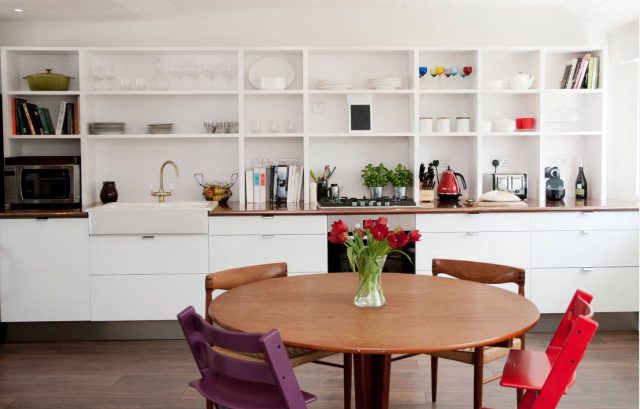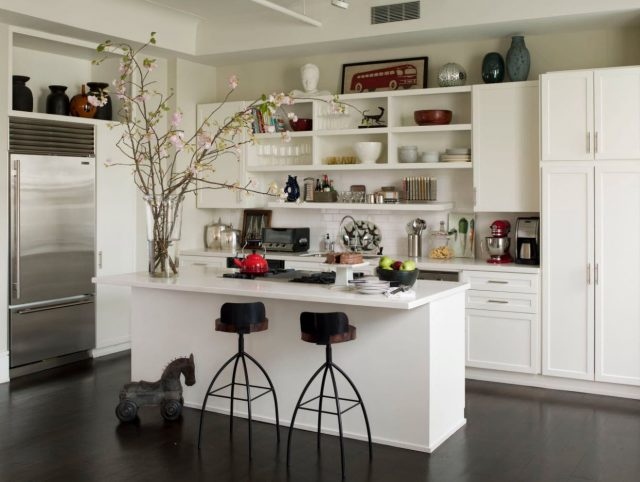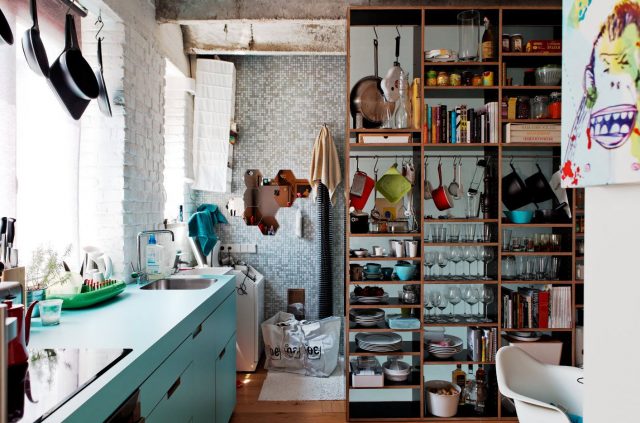 By adding just one open shelf in the lower part of kitchen cabinets, you will not only create a convenient place for storing the most part of kitchen items, but will also transform the whole image of the entire room. Such items as – spices, teacups and saucers, various devices you use every day – are great to be placed on shelves. As a result, you will not need to open cabinet doors every time you want totake a glass and drink water or make tea for the whole family.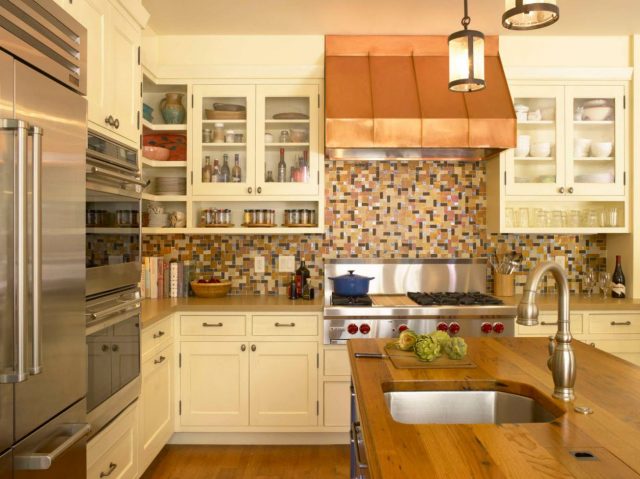 Open shelves as storage systems and a decorative element of kitchen interior
If you decide to replace partially or completely the upper tier of kitchen cabinets with open shelves, locate them on both sides of a kitchen hood. Such an arrangement helps to prevent the surface of shelves from droplets of fat, and on the other hand, to keep all necessary kitchenware items – utensils, spices, accessories – handily. In addition to the fact that open shelves, located above the kitchen-range is an incredibly practical and convenient design solution, such arrangement brings symmetry and orderliness into every interior.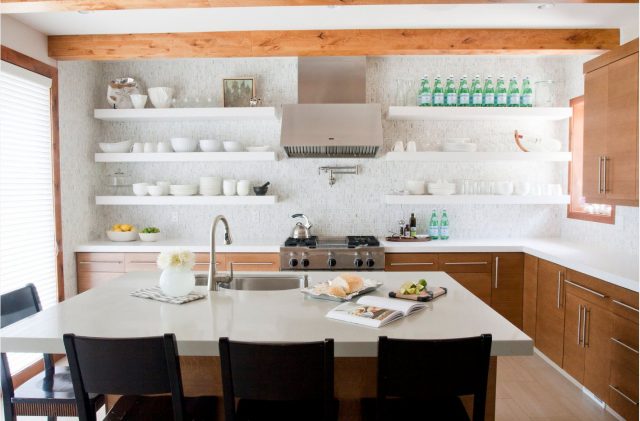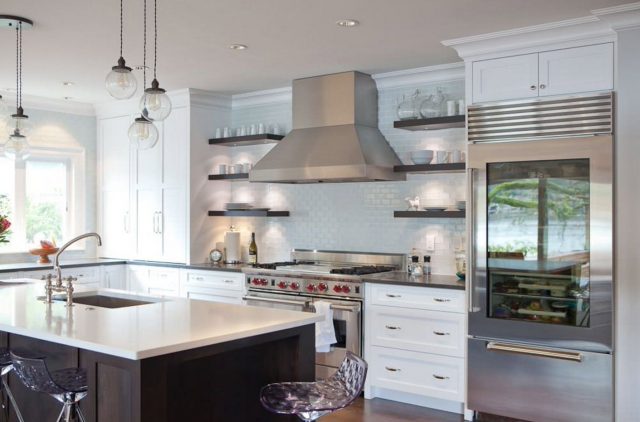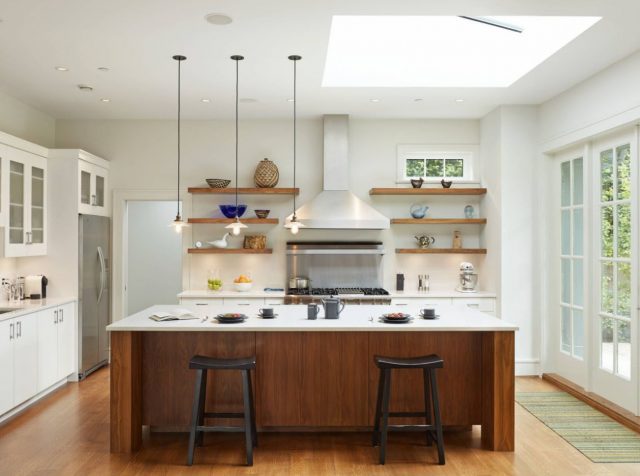 Another popular option for open shelves arrangement in the upper part of the kitchen set is an installation on both sides of the window where the sink is located. In this case, the opposite wall of the kitchen can be equipped with traditional kitchen cabinets – both in the lower and upper part.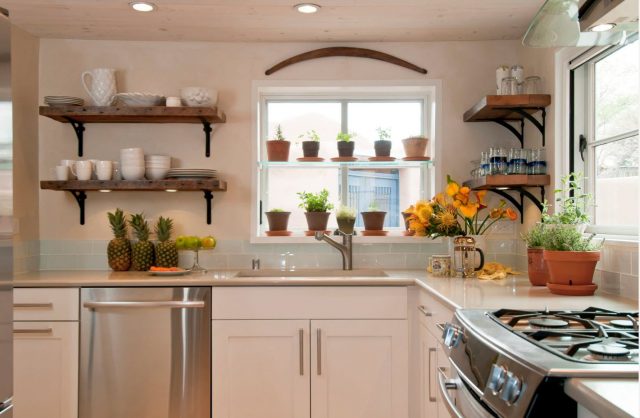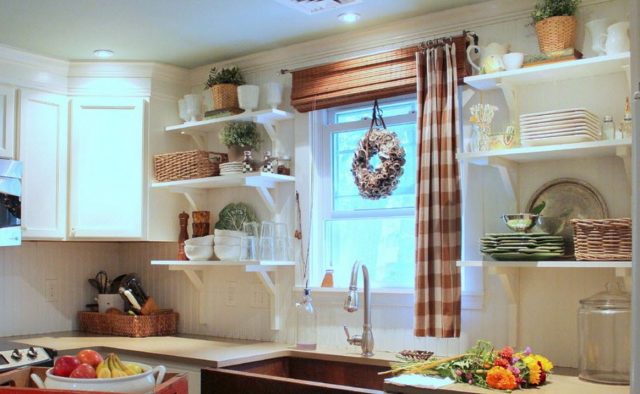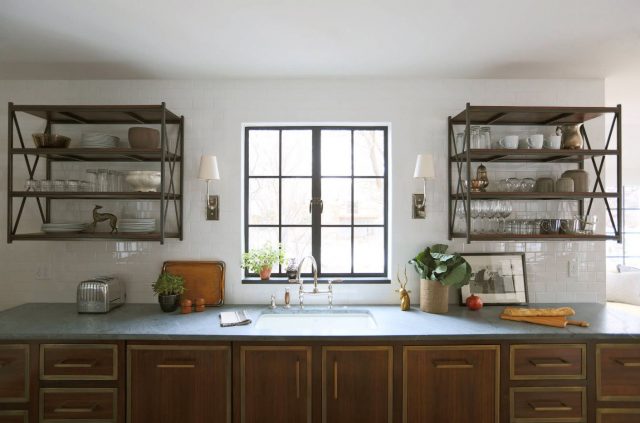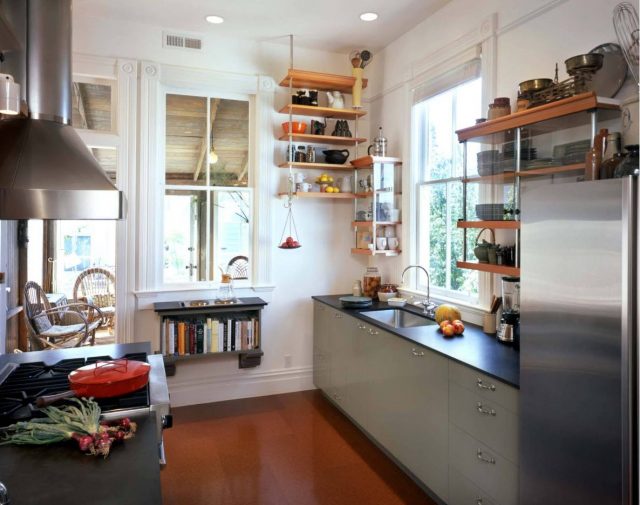 Not common, but a very practical way to arrange open shelves is above the kitchen island. Given that a hob, sink or other household appliances are often embedded in the top of the kitchen island, an opportunity to keep all needed kitchen utensils handy becomes a priority for owners. But in this case, only shelves mounted to the ceiling should be used.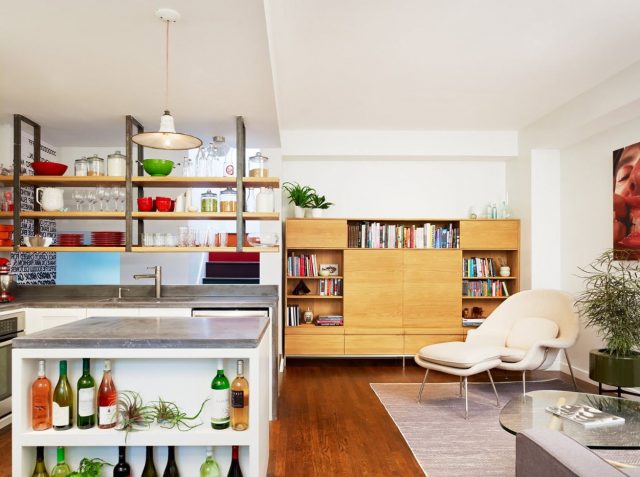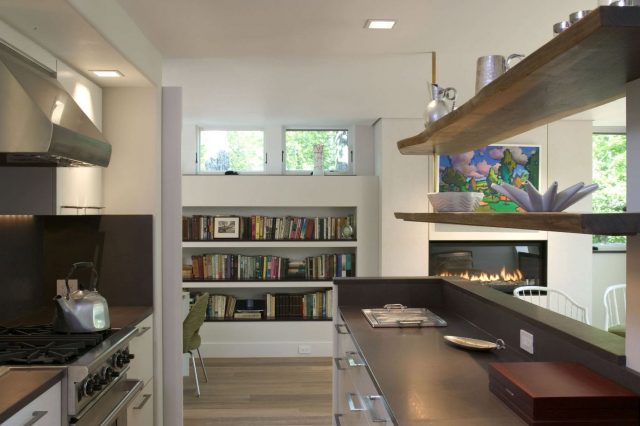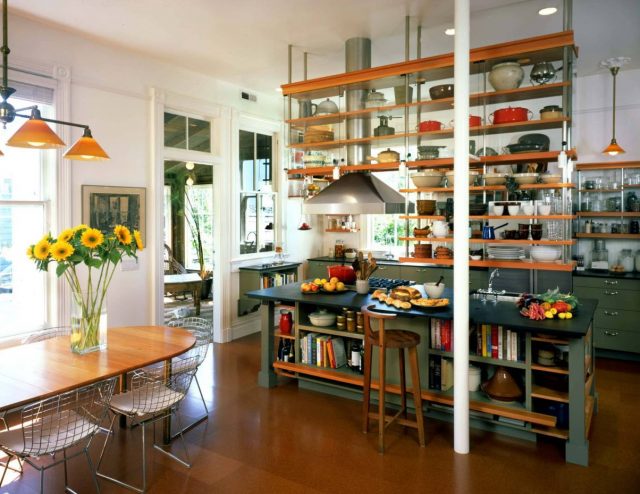 Shallow open shelves can be placed in several rows near the doorways. Typically, this space is not used for installing storage systems – they simply do not fit in there. But for small shelves you need very little space. Obviously large objects can not be stored on such shelves, but dishes, spice jars, cooking books and other kitchen accessories will fit easily.